Evocative Performances on
Period Instruments
Shared music of early times brings us to a meeting of minds surpassing that possible by words alone, and allows a communication with the past unlike any other. Elizabethan Conversation combines scholarship in historical performance with individual judgment, and mixes in the magic of the moment. Started in 1982 as a renaissance lute duet, Elizabethan Conversation now performs diverse programs.
Sample Programs
The concerts feature period instruments, many designed and built by Derwood Crocker. They also include notes on the music and instruments and a chance to speak with the artists afterwards. Pleasing and exciting performances add flavor to many occasions. Here are our current programs.
A MUSICAL EUROPEAN HOLIDAY
Baroque music for recorders, viola da gamba, and harpsichord takes us on an European holiday. Through the music, we visit Italy (Barsanti, Bitti, Marcello), Belgium (JB Loeillet), Germany (Bach), Spain (Diego Ortiz) and/or France (Marais).
AN EARLIE MUSIK SHOW & TELL
Through dance music on a medieval fiddle (vielle),  a renaissance lute fantasy, and recorder tunes, we hear musical instruments in European art "come alive."  Presented with spoken program notes about the period instruments and music.
"Professor Sandman's presentation during the opening reception for the (Johnson) Museum's reinstalled European galleries was the perfect accompaniment to the event. Scholarly and yet accessible, her concert combined engaging performances of early music for lute, viola da gamba, and recorder with fascinating information about instrument construction and performance practice, and an opportunity for audience members to ask questions and see the instruments up close."  Andrew C. Weislogel, Curator of European Art before 1800
Lute Music
Susan Sandman, Lute:
Fantasia X by Luis Milan
Ricercar XI alla spagnola by Vincenzo Capirola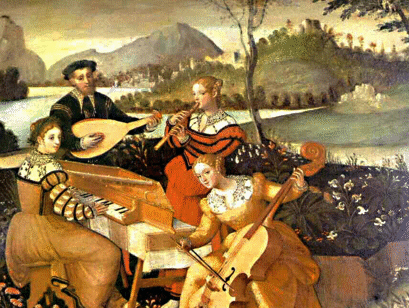 House Concerts
Music for a gala or special evening at home.
Special Occasion Programs
To suit individual needs. Click here to contact us about a performance.